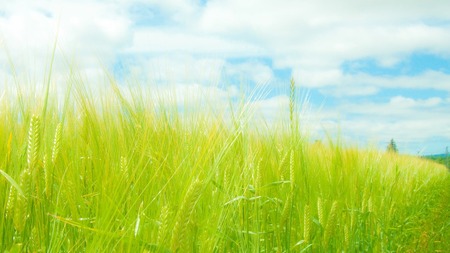 Role: Air flow
Imagine the grass undulates by a breeze. Circulation of a heart, blood, bodily fluids and energy keep emitting what are no longer necessary out of the body by promoting breathing. This chakra is concerned of 'air', which is most important to keep pumping a heart.
Color: Yellowish green (green)
This chakra color is yellowish green that reminds us of a breeze on the grass. Yellowish green means 'wind' if understood as an earthly element.
Body part: Chest
The respiratory system such as chest, a heart, lungs and windpipes.
Influences:
4th chakra at work keeps you free from a sense of obligation and motivated to do what you really want to do; you can relax and keep a healthy blood flow.
Conversely, you tend to catch yourself holding your breath or stay stressed without the energy of the chakra; you may feel responsible too much if you have a backache; you may feel sluggish if you have not taken descent responsibility.
Points to care: Let it flow
This chakra is said to be a main joint keep balance between spirituality and body. Its energy promotes breathing and stream of spiritual energy. Mental stress easily surfaces as physical issues. So take a deep breath and imagine a flow of energy before you fall asleep so that circulation of breath, blood and bodily fluids wash out stagnant energy and stresses.
Empowerment:
This chakra needs several points to care to empower it. If necessary, I am going to tell directly to you while you attend a spiritual session of mine.
【Chakraの最新記事】