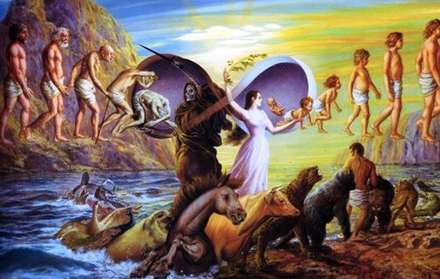 What on earth do dusts of energy get together, gain individuality, originate consciousness and give off radiation of ideas, developing thoughts for the better future?
Souls of ours sprang from 'wish.' A cosmic being who gathered energetic dusts produced the souls for the future the galaxy itself wished to realize. Some call it ' the creator,' and others 'God,' or 'the sun.'
You, your soul might have been produced only by a wish of somebody, or by a wish of a couple of beings.
First, individual souls try realizing the wishes of those who make themselves. Next, they begin to choose their own life course as their memories and experiences vary, developing diverse talents. Their talents are here considered for their better use by creators.
This said, the souls gain consciousness and hope to hold their own future vision to realize. It is at this time that they choose which to do: produce an energetic being from scratch without any help of their creators, or keep realizing the vision of their creators: or both.
The majority of souls make up their mind to realize both visions of their creators and their own. They can also choose how much energy they pour into to which at will.
The particles that constitute a soul never gains individuality. Only in-between dimensions made of particles can retain energy, which earns consciousness. It also begins to form a prism object what is later called soul, receiving other energies, making changes of them and giving them off.
A soul, an energetic being piles up memories, experiences and talents as it realizes wishes of its creators, developing its character in order to become a creator itself.
What I would like to emphasize here is that you, even from now on, can become a creator who gives birth to an energetic being.
It rings natural for some of you to think that you can be a creator, only if you live for everlasting time and gain tons of experiences, staying vulnerable to every single energy in the universe and moreover receptive to all of them.
However, you can expedite the process of your soul enrichment, if you want it. Even if you are tiny still, sensitivity to ebb and flow of the tide helps your soul stand out to shed creative radiation out.
Grown-up souls have walked one of the following ways. Receiving much and diverse energy with big caliber, or with small caliber taking in the cutting-edge energy all the time. The majority of terrestrial human beings have walked the latter path. They tend to look small but fresh, clumsy but flexible, filled with curiosity.
You are a holder of a soul which can be a creator. Try imagine now what kind of soul you shape, what energy you want to give off, what colors you mix. Feel free for it.
That considered, you may slow down your spiritual evolution, relaxed and even more characteristic as you manage your soul construction.
(Take it into your consideration that the explanation below is one of the popular hypotheses.)
【soulsの最新記事】